Monday, 03 March 2014 00:00
I was a little surprised to discover that one of my most popular blog posts in the past few months has been my piece on '10 Tips for Choosing the Right Change Management Consultant'. I've heard from several people who said that it had helped them clarify what they were looking for.
One person in the UK said that she's been able to narrow down the list of consultants to 3, but has been asked by her leadership team to 'interview' them to assess which one will be the best fit for their project. She asks: "What interview questions should I use?"
My advice was to approach it the way you'd approach any BBI (Behavioral Based Interview), with open-ended questions designed to identify strengths, weaknesses, skills and attitude.
Here are the 10 questions I think she should ask:
1. What is your approach to change management?
This is a bit of a trick question: You want your change management consultant to have a good understanding of the various theoretical approaches out there, but as I've said before, different projects will require different approaches or a combination of approaches. A consultant who says they follow X approach every time probably isn't going to be flexible enough.
2. Do you do the work yourself?
Is the person sitting in front of you merely the selling face of the organization, who will send in junior interns as soon as you're paid the first retainer? There is no wrong answer here - just know what you think would work best for you. You may llike that young, enthusiastic individuals will be joining your team for the project. Or you may think that this change really needs seasoned individuals. Know what you want before you ask the question. And if the answer isn't what you want, ask how to get what you need.
3. What does your team look like?
Depending on the scope of the change, and the nature of the organization, specialist team members may be required to take on different tasks (documentation, communication, training, etc.). You're looking for an answer that makes it clear the consultant recognizes the need for specialists and can bring them in as required. Another way to ask this question is: What kind of specialists do you think this project needs?
4. We've historically had X problem. How will you deal with that?
You're looking for an answer like "I've encountered similar challenges in the past. Here's the approach I've taken in those situations..." A consultant who dismisses the issues or says "History isn't important - we're moving forward!" isn't going to be a productive fit in the long term.
5. How will input and insight be gathered? How will you collect criticism?
With the first question, you're looking for a structured approach that includes representatives from across the organization - a consultant who focuses only on gathering input from 'management' will run into trouble getting junior and mid-level workers to buy into the change. With the second question, the best respons is one that acknowledges that criticism will happen regardless of how great the change process is - and acknowledges that criticism can provide valuable insights.
6. What is your approach to communication?
I've said it before and I'll say it again: Communication is absolutely crucial to a successful change management project. A good change management consultant should be able to speak knowledgeably about communication strategies both at the outset of a change and throughout the process, and should recognize the need for frequent, honest communication via a variety of media.
7. How will knowledge transfer be handled?
It can seem easy to bring in a change management SWAT team who takes care of everything - but then the changes often leave when the SWAT team does. You want a change management consultant who works with your team throughout the process, to ensure your employees are fully engaged in the process and understand all the details. An answer like "We have training sessions during the last week of the process..." isn't enough.
8. Tell us about a successful change management project you led.
This is classic BBI questioning, designed to get at the example which most easily comes to mind. The answer will give you good insight into the way the consultant works best.
9. Tell us about a failure - and what happened.
No change management project goes seamlessly - there are always challenges along the way. This question will help you understand the problem-solving skills and responsiveness of the consultant - and whether they'll fall down at the first hurdle. You're looking to find out how the consultant managed to turn that failure into a success - either with the client or with future clients.
10. What does success looks like to you?
Some people resist change management consultants, thinking they're too much like HR types who are more concerned with 'process' than with 'bottom line'. Asking what success looks like will help you identify whether the person you're talking to is really focused on business results.
Thursday, 27 February 2014 16:40
I recently worked with a mid-sized professional services client on a change strategy for the implementation of a new customer relationship management system. As part of the process, I was given a couple of years' worth of sales figures, which showed a real change in the revenue they were earning from different solutions they offered.
"I'm seeing a big increase in sales of Product X, but a decline in sales of Product Y," I remarked. "I thought you told me you wanted to increase Product Y sales because it was higher margin and created a more steady revenue stream in the long-term. What's happening?"
The Director of Sales sighed. "We changed the way we wanted to approach the market with Product Y, and now no one really knows what's going on."
Turned out that the senior leadership team couldn't agree on the revised positioning of Product Y (did they target one or two verticals, or try to go after a larger market segment?), which meant that marketing couldn't create any messaging around it - and that meant that not only were they not doing any external communications, they weren't doing any internal communications, either. So the sales team, left in limbo but still wanting to make their numbers, were selling as much of Product X as they could while basically ignoring Product Y.
This is what I call 'everyday change': The kind of shifts in day-to-day business that seem like small things - until 6 months pass and you realize that little change, left unaddressed, has actually resulted in some big (and not positive) changes for the business. No one bothers to create a 'Change Management Strategy' or call in a change management expert for this sort of thing, because it doesn't seem like a big deal. But it is.
The solution?
As an outside consultant who already had access to the senior leadership and was accepted as a change expert, I was able to help my client: At the next meeting I added 'product offerings' the agenda and we were able to map out a plan:
We set aside time to finally get agreement on the revised positioning for Product Y
We agreed on some basic features and benefits messaging
Marketing was tasked with creating some internal communications, which were then approved by the leadership team
Because leadership was now all on the same page, they could take that back to their teams
We arranged training for everyone in the organization - not just the sales team
Marketing prepared an external communications plan which was presented to the organization with some fanfare
None of this took very long - it was really just a matter of forcing the organization to make it a priority, and then taking the time to communicate it to the organization.
The result?
Sales of Product Y rebounded almost immediately - the salespeople preferred to sell it anyway, due to the higher margins.
The lesson?
Change management doesn't always mean allocating a huge budget for what is clearly an organizationally-transformative initiative. Sometimes it just means managing day-to-day changes in business focus as efficiently as possible, to ensure that business goals are being met and everyone in the organization is moving in the same direction.
Sunday, 23 February 2014 00:00
A few years ago I worked with a mid-sized professional services company which was owned by two partners. Wtih revenues of about $40 million, the company was growing at a steady pace and needed to transition from an entrepreneurial, fly-by-the-seat-of-their-pants culture to one which had at least a few established policies, procedures and processes.
At first, everything went well: The entrepreneurial culture meant that both the partners and most of the employees were comfortable with change, so I didn't anticipate too much resistance to implementing the strategies we'd agreed to.
Until we got to the new CRM software.
Part of my role was to oversee the configuration of new CRM software - which tracked sales, clients, projects and accounting - so that it more closely matched the way the business worked. With that in mind, we'd carefully gathered insight from the different departments, mapped out the business processes, and identified the various roles within the organization.
One of the things we determined was that, because many of their clients had both a head office and a branch office, we needed two address fields in every record. Typically, the branch office was where the work was done while the head office was where the bills were sent. The problem? The partners couldn't agree which address should come first on the screen.
Partner A was adamant that the billing address was most important, so it should come first; Partner B was equally adamant that the location where the work was done was most important and it should come first. From a functionality perspective, it made no difference which came first - both showed up at the top of the screen anyway. But the debate raged on.
For two weeks, we (the change team) waited for a final decision so we could move forward to beta testing. Finally I realized that without intervention, the stalemate would never end. My solution? I bought a $250 bottle of wine - both partners were connoisseurs - put it down in front of them and said I'd give it to the one who gave in first.
I had a decision within 10 minutes.
However, I learned a valuable lesson: No matter how change-receptive or easy-going an organization may be, it's crucial to establish a decision-making hierarchy at the outset, especially if there are multiple high-ranking decision-makers within the organization. I could have saved myself a lot of headache (as well as $250) if I'd insisted, at the outset, that one partner be designated as the final arbiter in the event of a dispute.
Tips for easier decision-making management:
Make decision-making process mapping a part of the very first meetings with the client
Ensure that all project leaders are aware of - and buy in to - the decision-making hierarchy
Attach levels of importance to various decisions involved in the change process, so that small ones can be dealt with by managers while larger ones require a director-level or above
Establish a final decision-maker who has the authority to make a decision and shut down further discussion
Recognize that what you may see as a 'small' decision may be a big one to others - and have a plan to deal with it.
Thursday, 20 February 2014 04:55
On my more or less constant quest for interesting change management items, I came across this infographic today: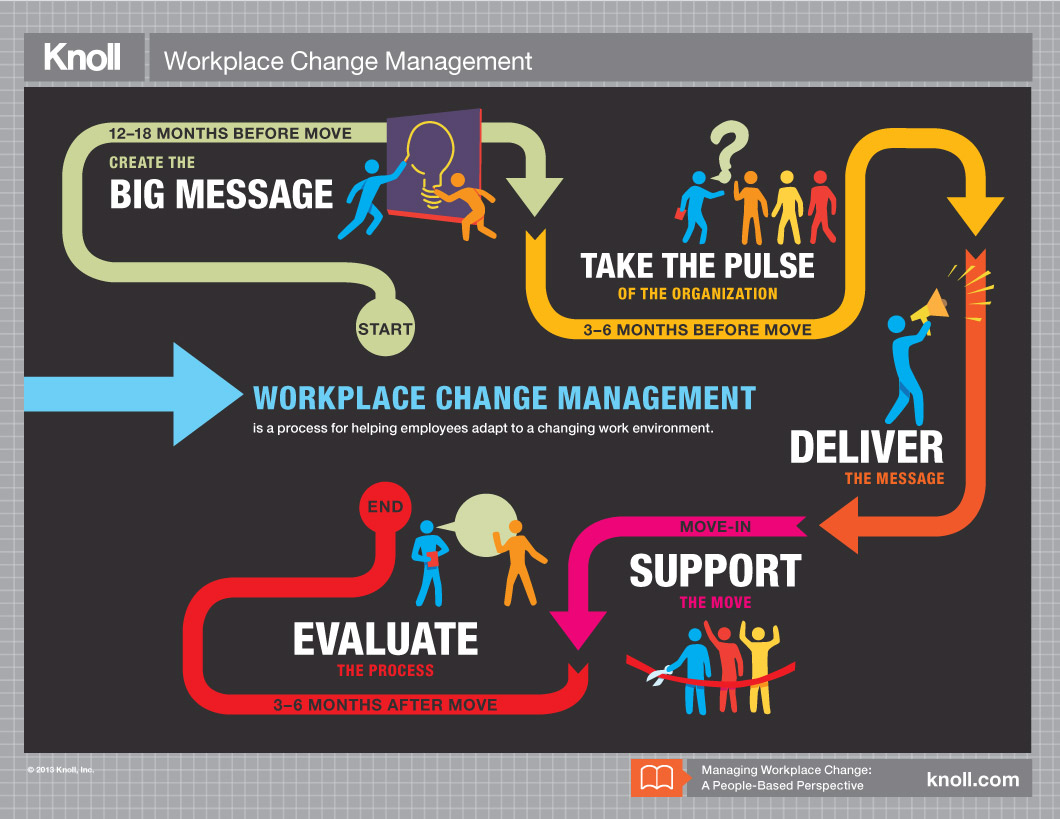 Now, Knoll is a company which specializes in office furniture (or perhaps they'd prefer to call it 'workplace environment design'), so their core competency isn't change management. However, if you're a supplier involved in a refit of an office of hundreds or thousands of people, you're going to need to know something about change management - because no matter how beautiful your 'office environments' are, getting a whole lot of people packed up, moved and settled, without losing a lot of productivity, requires quite a lot of change to be managed.
This content of this particular infographic isn't particularly earth-shattering - communication, input, messaging, supporting and evaluating are all pretty standard components of any change initiative - but what I liked about it was how aethetically pleasing it is, and how it makes clear that even an office move requires a 12-18 month lead time in terms of communicating the Big Idea to the organization. In my experience, if organizations did a better job of creating compelling communications, and put them in place earlier in the change process, almost every change initiative would go a heck of a lot more smoothly and with more enthusiastic buy-in throughout the process. After all, it's hard for people to keep resisting something that looks so appealing, especially if it's been announced months - or years - in advance.
Just something to think about.
Sunday, 16 February 2014 00:00
A few weeks ago I took part in a workshop session with other change leaders and coaches. It's always interesting to hear how other people approach organizational change - you never know when you might learn something new - but I found myself disagreeing wholeheartedly with one participant, also a change management consultant.
"I never spend time reviewing an organization's history," he said. "That's just wasted time. I'm here to help them move forward, not dwell on the past."
While I agree with the last part of his statement - as change management consultants, we're supposed to be helping companies move forward into a changed environment - I don't believe that it's productive to ignore an organization's history. What organizations can achieve is dependent upon their people, and people are the sum of their experiences, their history - they can't just reinvent themselves at 9 am on an arbitrary Monday morning and pretend their past experiences never happened.
In fact, you wouldn't want them to. Much of your employees' value lies in their past experiences, both at work and in their personal lives. Their education, their life experiences, their relationships with their team members - all of these can be positive assets as you move forward with change.
At the same time, of course, an organization's history can sometimes be a hurdle: An ingrained resistance to change, old feuds between key departments, a non-productive attachment to outmoded business processes - all of these things can become obstacles to successful, productive change.
Burying your head in the sand is hardly ever a successful strategy
But ignoring these obstacles won't remove them from the path to change - and in fact you may be missing some key insight that could help your change strategy be more successful with less effort. Here's an example: You create a chanjge plan and issue edicts to various departments of the organization. The purchasing department and the marketing department have had difficulty working together in the past, but you've decided that It's A New Day for the organization and proceed with your plans, assuming everyone will pull together - you don't have time to go into that history with them. Except that 3 days before the change is supposed to take effect, you discover that the purchasing department hasn't released the funds the marketing department needs in order to properly communicate the change, and now you have to delay your change efforts for a month while the mess gets sorted out. The organization loses money every day the project is delayed - and even more important, the change effort loses momentum while everyone waits around.
Now, there's something to be said for leadership encouraging employees to come to a change strategy with an open mind, and to try not to bring 'baggage' into the process. But to pretend that the history of an organization - and that of its individual employees - doesn't exist only ends up being counterproductive.
Saturday, 08 February 2014 00:00
The senior management of the organization has done a thorough analysis and assessment, and everyone's agreed: The sales department is holding up the rest of the organization, and needs some radical change.
So you redraw the sales territory boundaries, give them some new CRM software, write a new sales training program and hold a 2-day retreat designed to get all the salespeople engaged in the new system. It seems to be working and everyone in the sales department is excited to be moving forward.
But...a month after the changes take effect, you discover that the supply chain is in disarray, the accounting department is fuming because they aren't getting invoices in a timely manner, and the entire customer service team is about to mutiny because they're getting so many angry calls from clients.
What the heck happened?
You forgot that changes to the Sales organization didn't happen in a vacuum. When you changed the way Sales functioned within the organization, you changed the way the whole organization worked. When Sales changed the way they processed orders, it had in impact on the way Accounting processed them; when Sales put a big push on Product X, that had an impact on the way Supply Chain sourced it; and when Sales changed the message it communicated to customers, it had an impact on Customer Service.
At its core, change management is really about being able to see the big picture and mapping out how a change - or a set of changes - in one area is going to affect other areas of the organization, and what needs to happen in order for all the elements to work together effectively.
When proposing a change that seems to affect only one department or division, here are some questions to ask:
- How will this change affect the day-to-day activities of the key roles within this department?
- How will this change affect the day-to-day activities of key roles in other departments?
- Can we draw before and after process maps of key procedures within the organization to identify what will happen as a result of these changes?
- Have we asked for input from key stakeholders in other departments to help identify how a change in Department A will affect Departments B-F?
- What communication and training will other departments/divisions need in order to be working in concert on Day 1 of the change?
Asking these questions - and taking the time to plan for the answers - can add a little time at the outset of a change initiative, but I guarantee they'll save time (and headache) when the change starts to take effect.
Monday, 03 February 2014 00:00
Telling the right story is the first step.
I don't know about you, but the moment I lost interest in mathematics was the day in 9th grade when, struggling with an algebraic formula, I asked the teacher what it meant and what it was for, and her answer was a curt and dismissive: "Because it's on the test."
That didn't help me understand how x2 + 3y = 72 was relevant to my life. As far as I was concerned, it was just a bunch of random numbers. And in 9th grade, my first year of high school, "it's on the test" didn't help me do anything but panic. Needless to say, my grade reflected that.
My friend's physics teacher had a better approach: By telling stories about sailing ships headed for cliffs ("calculate the angle") or balloons taking off from earth ("calculate the velocity"), she was able to put the numbers and formulas into context and make much more sense of it all. The teacher didn't claim that she'd need this information for some nebulous event in the future, either; he pointed out ways it could be useful to understand events in her daily life.
The same thinking applies to change management: When you tell employees that they have to make a change, but your explanation never gets beyond a vague "because it's good for the business" and you don't help them see how it will be relevant or useful to them, you end up with a lot of confused, reluctant and possibly downright mutinous employees.
I've talked to senior leaders who insist that the average employee doesn't understand and doesn't need the details about the big picture; that it's pointless to try to explain it to them because they're not interested in anything outside of their own little job. Sure, there are some employees like that. But in a successful, growing organization, there are far more people who want to be engaged in the full picture, who want to know how they fit into that picture, and who really want to know what it takes to be successful within it. These people are prepared to make changes - as long as they feel like they're making those changes as part of the team, not because they're peons who're forced to do The Boss' bidding.
So how do you get them engaged? It starts with telling the right story
If you're making changes because you have research that says the next 5 years will bring revolutionary change to you industry and you need to make sure you're ready, tell that story. Show people the research, walk them through your thinking, demonstrate how the changes you're making now will ensure business success in the short, medium and long-term. Tell them how it's going to become part of your culture, your brand story, your sales strategy - and how it's going to give them more opportunities to shine.
If you're making changes because the business is in trouble, it's even more important to tell the right story. Your employees already know there's something wrong; making unexplained changes will only increase the feelings of panic. Instead, create a story that recognizes the current challenges and explains how the changes are designed to transform the business. It's okay to acknowledge that some of the changes will be difficult for some people, as long as you're honest and logical in your narrative.
People don't get engaged in facts; they get engaged in stories. When you create a narrative for your changes, you'll find your people are more willing to become part of the team rather than a roadblock to the process and the company's ultimate success.
More...