Change management can get derailed by the weirdest things
A few years ago I was working on a change management initiative: Implementing a new CRM (Customer Relationship Management) process within a mid-sized organization. The project mostly involved changes to the way customer inquiries and issues were managed and monitored, but the software was staying the same.
I thought the project was going quite well, until one Monday morning I checked my email to find 4 messages from the manager of the sales team.
"I can't stand this new system!" the messages said. "You never told me you were going to change the whole computer system! I thought were were using the same software as before! I can't find anything!" There were a lot of exclamation points, and the messages got progressively more strident.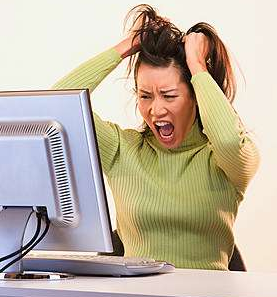 I was confused, because I knew we hadn't changed the software. The project was really about providing a better customer experience and ensuring that we had a more consistent message across all touchpoints.
Luckily I happened to be on-site with the client that day, so I stopped by the sales manager's desk to ask for more information. I was glad I did.
It turned out that over the weekend (typically a slow time), the IT team had made some changes to the look and feel of the back-end of the CRM system, to make it more consistent with the front end of the website: They'd added the company logo, changed some fonts and colors, and added a background image to the login page. Nothing about the functionality had changed: Users still logged in the same way, entered the same information, and navigated through the same screens.
The problem? The IT team hadn't told anyone that they were making the changes over the weekend, so when the sales manager called up the CRM system on that Monday morning and saw an unfamiliar background image, and was then faced with a system that looked different, she panicked.
The lesson? When people are in the midst of a change initiative, they can feel more insecure and uncertain than usual, because they know they're going to have to learn to work - and be successful - in different ways. That kind of stress can lead them to misread information (mistaking new colors and fonts for a whole new system) and then over-react (sending 4 panicked emails). This is why it's crucial to communicate - and keep communicating - even the smallest details, throughout the process. If the IT team had simply sent out an email on Friday saying they'd be making some cosmetic changes to the CRM system, the sales manager would have been prepared for what she saw on Monday.
BONUS LESSON: Your sales team can be your most effective allies in a change management initiative - but they tend to be emotional engaged, so it's extra-important to manage their experience throughout the process.